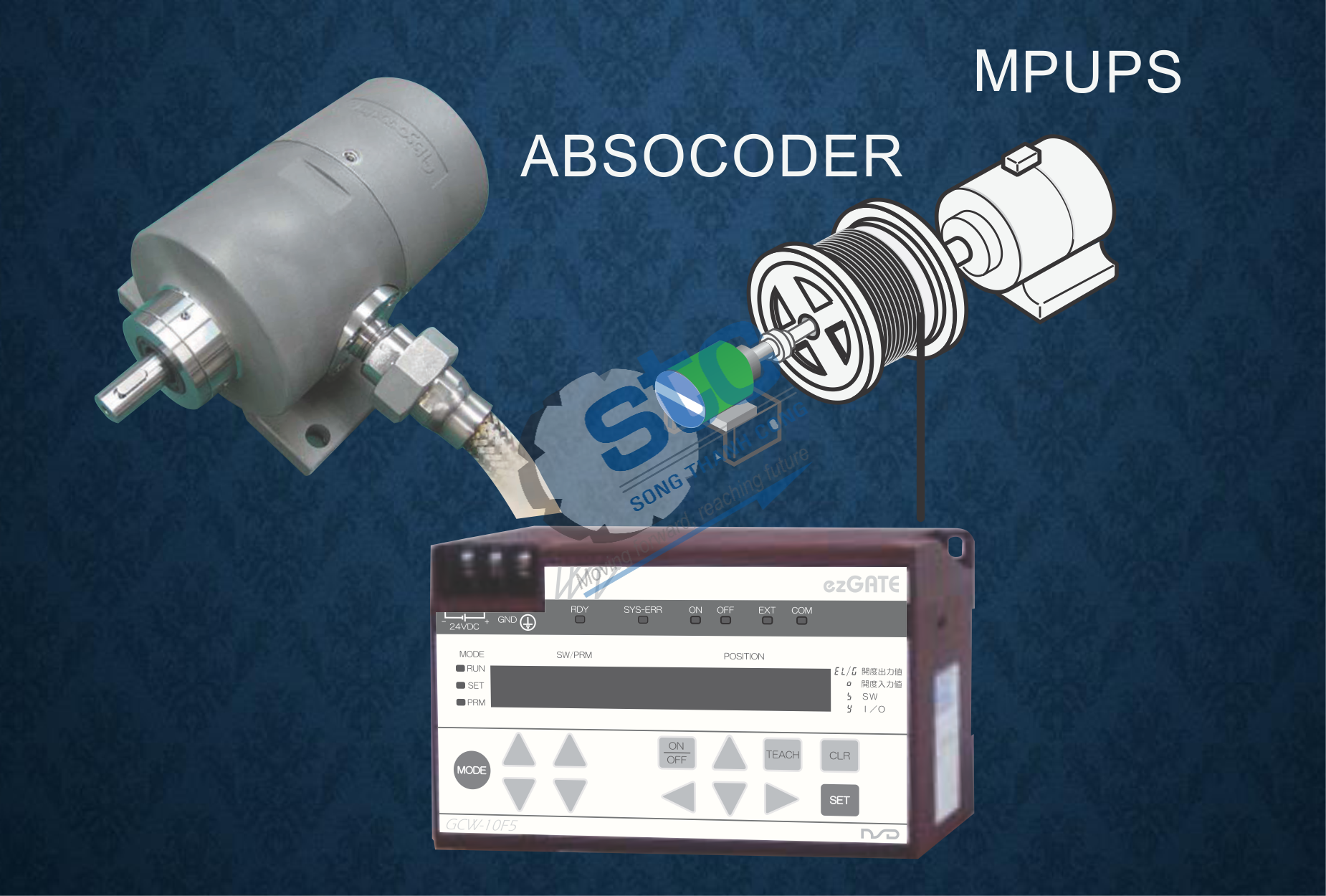 Explosion-proof products comply with Japanese explosion-proof test Ex ia IIB T4.
Explosion-proof is available when a safety barrier is connected between the ABSOCODER sensor and converter/controller.
The extension sensor cable is able to extend up to 200m between the sensor and barrier.
ABSOCODER sensor is installed in the hazardous area
Controller and safety barrier is installed in the safe area
*1 : The certificate number of the safety barrier depends on the applicable ABSOCODER sensor model. Please select the barrier corresponding the ABSOCODER sensor(detector) used.
①Indicates the product is certified the international standard
②Type of protection
③Grouping of gas/vapour
④Grouping of gas/vapour
⑤Temperature class
T4: The maximum surface temperature is up to 135℃
Absocoder Sensor
Extension sensor cable
Safety barrier
Converter connection cable
Controller model

Single-turn type
VRE-EXIP028SAB

4P-EP-5152-(Max.100m)
(Robotic cable)

BA-3PEXI-G
No.TC18587 *1

4P-S-0140-(Max.5m)
NCV-20NBNVP-EXI
Converter Output=Binary code
NCV-20NGNVP-EXI
Converter Output=Gray code
4P-EP-S-6465-(Max.200m)
(Standard cable)
VS-6E-EXI
VARICAM Output=Switch

Single-turn type
VRE-EXIP062□□B

4P-EP-5152-(Max.100m)
(Robotic cable)

BA-3PEXI-G
No.TC18588 *1

VS-1AN-1-EXI-V1PG
VARIANALG Output=Analog voltage
4P-EP-S-6465-(Max.200m)
(Standard cable)
NPG-10NAAVP-EXI
ABSO PULPUL Output=A/B/Z phase pilse

Single-turn type
VRE-EXI10TP058MSB

4P-EP-5152-(Max.100m)
(Robotic cable)

BA-3PEXI-VT
No.TC20269

4P-S-0140-(Max.5m)
NPG-10NAAVT-EXI
ABSO PULPUL Output=A/B phase pilse
4P-EP-S-6465-(Max.200m)
(Standard cable)

Multi-turn type
MRE-EXI32SP061□□B

4P-EP-5152-(Max.60m)
(Robotic cable)

BA-4PEXI-MR
No.TC18761 *1

4P-S-0140-(Max.5m)
NCV-20NBNMR-EXI
Converter Output=Binary code

NCV-20NGNMR-EXI
Converter Output=Gray code
4P-EP-S-6465-(Max.100m)
(Standard cable)
VM-2CC-EXI (CC-Link)
Network Converter Output=Binary code

Multi-turn type
MRE-EXIG□SP061F□B

4P-EP-5152-(Max.100m)
(Robotic cable)

BA-4PEXI-MR
No.TC18762 *1

VS-10FD-1-EXI
VARILIMIT Output=Switch,Current position display
4P-EP-S-6465-(Max.200m)
(Standard cable)
VS-212DN-EXI (DeviceNet)
VARILIMIT(2 axes) Output=Switch,Positioning

Linear type
(Submicron Absocoder)
VLS-EXI1.64SS6AB

3S-EP-5152-(Max.100m)
(Robotic cable)

BA-3SEXI-P
No.TC18136

3S-S-0140-
(Max.5m)-S045
VL-2-S1-EXI
Converter Output=Binary code

Linear type
VLS-EXI8PSM□□□

4P-EP-5152-(Max.60m)
(Robotic cable)

BA-3PEXI-P
No.TC18398

4P-S-0140-(Max.5m)
NCV-20NBNLP-EXI
Converter Output=Binary code
NCV-20NGNLP-EXI
Converter Output=Gray code
4P-EP-S-6465-(Max.120m)
(Standard cable)
VS-10BHC-D-EXI-LP
VARILIMIT Output=Switch,Current position display

Cylinder type
IRS-EXI51.2P12□□FAB□

4P-EP-5152-(Max.100m)
(Robotic cable)

BA-3PEXI-C
No.TC18589 *1

4P-S-0140-(Max.5m)
NCV-30NBNLC-EXI
Converter Output=Binary code
4P-EP-S-6465-(Max.200m)
(Standard cable)

Cylinder type
IRS-EXI51.2P18□□□AB□

4P-EP-5152-(Max.100m)
(Robotic cable)

BA-3PEXI-C
No.TC18590 *1

4P-EP-S-6465-(Max.200m)
(Standard cable)

Cylinder type
IRS-EXI51.2P30□□PAB□

4P-EP-5152-(Max.100m)
(Robotic cable)

BA-3PEXI-C
No.TC18591 *1

4P-EP-S-6465-(Max.200m)
(Standard cable)