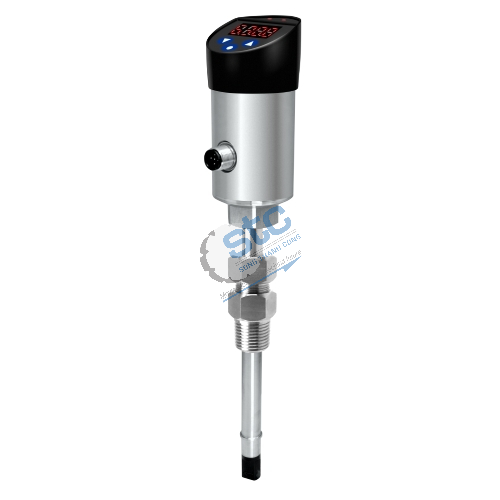 eYc FTM06D Thermal Mass Flow Transmitter
IP65
Resistance temperature detector
Analog / RS-485 / Impulse output
Applicable micro corrosion air
Strong stainless steel housing, for a variety of harsh environments
Built-in with temperature compensation, accommodate quickly any environment

FTM06D is based on thermodynamic principle, there are 2 temperature sensors inside the probe:one for temperature measurement, the other one as a measuring conveyor after heated.Temperature difference between the two as a basis for measuring flow rate. When the medium flow
rate increases, the temperature difference decreases.The temperature difference converted to standard signal output after processed that is why flowrate can be measured by these two sensors. All-metal housing, suitable for a variety of pipe diameters.
Type:Resistance temperature detector (RTD)
Range:Air:0 ... 60 m/s
Minimum initial value:0.2 m/s
Installation angle effect:<5% of the measured value (When the installation angle<± 3 degrees)
Signal:Analog:4 ... 20 mA / 0 ... 10 V ; RS-485 / Impulse
Signal connection:3-wire
Product accuracy:Air (at 25°C):±3%F.S.(Option 1.5%)
Warm-up time:About 120 sec
Response time:t90>3 sec
Load resistance:Voltage output:≧ 10 KΩ;Current output:≦ 250 Ω
Medium:Gas which is compatible with stainless steel
Operating Temp. & Humid.:0 ... 50°C;20 ... 90%RH(Non-condensing)
Storage Temp.:- 20 ... 85°C
Power supply:DC 24 V±10%
Current consumption:24 V:110 mA
Electrical connection:M12 Metal quick connector
Flange or thread:Metal flange mount or metal quick connector
IP rating:IP65
Electrical protection:■ Polarity protection ■ Over-voltage ■ Short-circuit
Housing:SUS304
Weight:Metal:480 g (without wire, with metal quick connector)